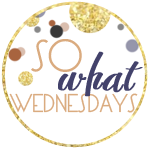 Wednesday Already? Wow. We are in a mad dash for Thanksgiving and this week I am saying So What! if:
I couldn't bring myself to buy an ugly sweater from Goodwill for an "Ugly Sweater Party" we are going to in December. They had plenty, and I mean plenty, of ugly sweaters to choose from, but I just couldn't bring myself to pay any amount of money for some of the God-awful choices that were in front of me. [to be continued, I'm sure]
My "Hatin' on Facebook" is growing more and more intense as each day passes. It seems like NOTHING but advertisements in my feed. Just another reason to ignore it.
I have THE.CUTEST.PUPPY ever but she bites like a Piranha. For real! This teething stage is going to leave a mark for sure.
The Kids and I visited Sarris' Candies last weekend and I bought a 1/2 pound bag of JellyBeans and ate every last one. OMG! I picked out my own assortment and I'm delighted to say that French Vanilla and Banana Nut were in the bag.
I love Combos - Pizzeria Flavor. Enough said.
I took my daughter to see "Catching Fire" on Sunday and I disliked it very much. In my defense, I never saw The Hunger Games, so I was lost the minute the movie started. I wanted to take Bella because she was so anxious and excited to see it opening weekend, so I took her because I'm a good mom.
I popped my earbuds in and listened to my John Mayer playlist during the last hour and a 1/2 of "Catching Fire". My John Mayer playlist is my coping mechanism.
I'll be watching the Macy's Thanksgiving Day Parade all by myself on Thursday. It's a fond memory of my childhood that nobody in my current household likes to share with me. :(
I've had my Christmas decorations all over my dining room for over a week and still have not put up one. The puppy consumes a lot of my time and attention and I just haven't been able to focus.
I love to watch falling snow. BIG FAT WHITE snowflakes. I don't like driving in it but it looks so pretty when it's fresh and newly fallen. Don't you agree?
I am not ready for Christmas at all. I don't think anyone is, but just the thought of it coming so quickly is freaking me out a bit.
No more So Whats! for me this week, but there are plenty of other bloggers sharing at
Life After I "Dew"
so check it out.
Happy "Over the Hump" Day,