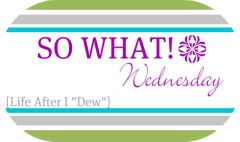 It's So What! Wednesday ~ That's what...
I have been MIA for a little while and although I've missed my BellaBud Blog and my sweet followers, life got in the way and I've been busy and focused. So, I decided to start blogging on my favorite of all blogging days -
So What! Wednesday
. This week I am saying So What! if:
I had to see Breaking Dawn Part 1 at midnight on opening day. I'm a Twi-hard and I don't care who knows it. BTW, it was AH-mazing!

This is my husband's Facebook profile picture - he's funny and loves to hunt and I think this captures his personality perfectly.

If the Christmas Folgers Coffee commercial makes me teary-eyed. Big brother returns home from West Africa, little sister is all grown up, parents watch adoringly from around the corner... so sweet.
I'm only 1/2 decorated for Christmas. Trees are up. Mantle is complete. That's it. Part 2 this weekend.
My kids and l laughed out loud the whole entire time we watched Jack and Jill starring Adam Sandler and Adam Sandler. Seriously friends, if you haven't seen it - you should. HI-larious!

I don't participate in political discussions ever, but I just have to say it's time for the irritating Herman Cain to hang up his quest for a Presidential run. I mean really - numerous sexual harassment allegations, a 14-year mistress, who is "just a friend", irritating shouting matches with the media. So over it!
Short and sweet this week, but So What!
Happy "Over the Hump" Day,